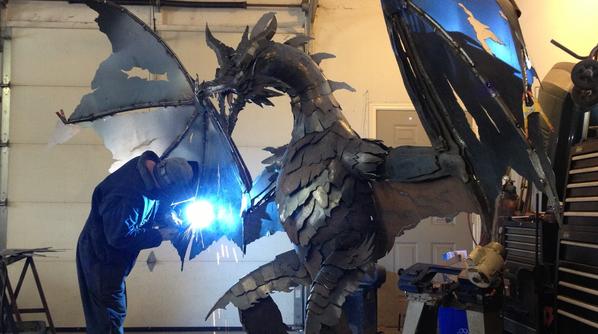 Our Approach
Imagine Metal Art is an extraordinary custom metal fabricating business that takes the daunting task of turning a piece of metal into art. The term imagination often refers to fairy tale, fantasy or fiction. Imagine Metal Art transforms such concepts of imagination into reality, creating dragons, gargoyles and other mystical creatures out of metal into works of art that can be proudly displayed in a customer's home, garden or business. Each piece is hand crafted and made here in Canada. Consignment and custom work most welcome!
Our Story
Imagine Metal art has been around for 4 years. Helping to craft the most beautiful metal art for gardens, funerals, fire-pits, plaques, business signs, sculptures, center pieces, car-grills and much more. All made from Canadian steel. You can decide to have your product created with stainless steel to last hundreds of years or to have it finished with high gloss paint, it really doesn't matter. If you can imagine it, we can create it. We take pride in creating custom artwork for our clients. Having seen countless smiling faces when viewing their order is nothing short of amazing, to us it is priceless. Inquire today about your Imagine Metal Art piece
Having Been Featured on Reddit, 9GAG, Inked Magazine & many more - we are your trusted metal art creator
Trevor Mcintyre
A seasoned welder and fabricator with 30 years of experience combined with a natural talent for art. Trevor began Imagine Metal Art 4 years ago in hopes of working for himself and giving back to the community. Residing in Dundas, ON, Trevor has gone viral with his own twist on the firepit and his other towering dragon sculptures. Today, there is no piece of art too big or too daunting for him to take on. Hoping to one day make world renown pieces for celebrities, cities and events
Check Out Our Facebook!
For more information, reviews, testimonials, and updates, visit our Facebook